Not only do we walk the walk, we talk the talk. Meet our fellow S3'rs who not only served their country, but serve our customers.
Skip to: Marvin Daugherty | David Flores Jr. | Christine Tindal | Greg Williams
Meet Marvin Daugherty – US Air Force, Retired
Hometown: Eau Claire, Michigan | Enlisted: 1988 | Retired: 2013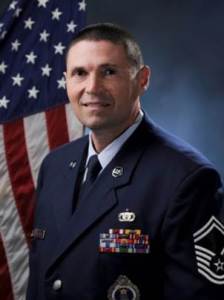 After 10 years with the security police and going on overseas deployments, I became a recruiter, which was a big change. I went from recruiting high school kids into the military to running huge recruiting events with NASCAR and monster trucks, and eventually I became a national director for health professional recruiting, based in Texas.
I retired in 2013, and while I was looking around for an HR management position, and I saw the ad for S3's military veterans program. I got an offer to help get the pilot program up and running. I was retired, I wasn't looking for money. I got into this to help other people, and this felt right.
A big advantage S3 gains by having vets recruit vets is that we can relate to people who are just coming out of the military lifestyle, people who haven't lived outside of the base in a long time. For people just coming off-base, it can be very frightening, but we can help them make that transition. When we look at vets' resumes, we know what we're looking at – acronyms, titles, technical terms – and these are things that we can translate into civilian job skills.
I love the fact that when someone says, "Let's find a vet for this job," I know that I have room to reach out to vets and the spouses. S3 doesn't just talk about it, we've done it, and that makes me proud. I see it every day, and that's exactly what I signed up for.
I was at a sourcing conference in Denver, and people were talking about having problems interpreting resumes from retired military. I always tell them, "The first thing you do is hire a vet, and they can figure it out for you. Just hire a few, and let them do it right."
Skip to: Marvin Daugherty | David Flores Jr. | Christine Tindal | Greg Williams
Meet David Flores Jr. – US Army, Veteran
Hometown: Mission, Texas | Enlisted: 1999 | Seperated: 2005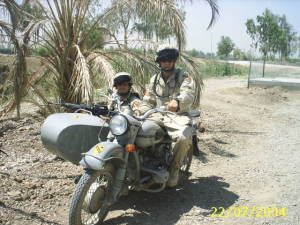 As a retrained armor trooper I was trained as a military intelligence analyst in the Army, I had to demonstrate attention to detail to the highest degree – If you were wrong, there would be casualties. I also got a rare glimpse into IT infrastructure, to see how all newly implemented military systems work, to understand how all of the elements can all be pulled apart and put back together. You get a birds-eye view of the whole project.
After that, I was handpicked by the 2BDE 1 Cav Div, Brigade Commander to join his personal security detail in support of Operation Iraqi Freedom. When we got to Baghdad, we had to constantly shift from dealing with warring factions between neighborhoods to a community-support mentality, where we were having weekly meetings with local leaders to address infrastructure and community concerns. When the call to support offensive operations in Fallujah, I was a part of the team to engage in combat operations.
After serving in Iraq, I made San Antonio, Texas my home, and spent a few years trying to figure out what I was going to do. My transition from military culture to civilian life was extremely challenging. I struggled a lot trying to find some direction, trying to reconnect with people. I needed to put myself in a bigger, better place, and decided to go back to school.
After I graduated from Texas A&M San Antonio, I was looking for something that required some form of analysis to take advantage of my education in sociology and biology, and I saw an ad on Craig's List, asking, "Do you want to learn staffing from the ground up?" And, this is what lead me to transfer my military skills and education into a career at S3.
S3 allows me to use the tools to be as efficient and organized as possible, while being very open to dialogue, so it's like the military structure, but with more open communication. If I have an idea, I can email [CEO] Cindy [Pasky] and talk about it – you can't just call up a general in the military.
The military really teaches you ownership of the mission. At S3, if you follow through on the corporate mission, you will make it happen. You don't make any excuses; you will find the person you need for the job and you close the deal. It's very easy to work for an honest company, and S3 allows you to take ownership of your job and run with it.
Skip to: Marvin Daugherty | David Flores Jr. | Christine Tindal | Greg Williams
Christine Tindal – US Air Force, Retired
Hometown: Del Mar, California | Enlisted: 1989 | Retired: 2014
My first job was with the Air Force working in logistics, supplying fighter jets, deploying every six to eight months, and managing supply systems. It was very fast-paced work and I went on frequent overseas deployments to resupply and support different missions. I separated from the Air Force in 1996 and rejoined after 7 years in 2001. This time, I served in a human resources capacity until I retired in Jan. 2014. In 2013, my daughter wanted to stop traveling so she could go to the same high school for all four years, so I had to choose between advancement to E9 and establishing a home for my daughter. So, I submitted paperwork for retirement.
Coming out of the military, I had experienced long hours and stress for 20 years, and I was ready to not be responsible for hundreds of people, getting calls at two in the morning, issuing work orders and reprimands.
When I retired, I started looking for a new career and networking with former Air Force coworkers. When a friend suggested me to a fellow vet who was recruiting for S3, I became a sourcer for the company in May 2014.
In the Air Force, we have our core values – integrity, service before self, excellence in all we do – and those transferred to directly my work at S3. I use those core values every single day.
Integrity comes into play all the time. You are responsible for what you do, how you work and maintaining your professional standards. My experience in the military prepped me for this role at S3.
Teamwork – In the military, you learn to function within a very diverse environment. That applies at S3 as well – You have to rely on everyone to do their part and work together, so you learn to function as a unit.
Right now, I'm still in my transition, and while it's been tough, the work is very rewarding, so I can take a breath and say, "It's OK, this is my time." Plus, I always remember to appreciate that I'm able to let my daughter fully participate in her high-school life.
At the end of the day, at S3, we're helping individuals attain employment, and this is a great program for bringing vets into the workforce. We're here helping someone get a job, and the most rewarding part of what I do is knowing that I helped them get there.
Skip to: Marvin Daugherty | David Flores Jr. | Christine Tindal | Greg Williams
Greg Williams – US Navy, Retired
Hometown: Miami, Florida | Enlisted: 1992 | Retired: 2013
During my career in the Navy, I worked in procurement, transporting cargo, aviation maintenance, logistics, replenishment, sometimes to a ship or a fleet, sometimes transporting materiel to the battleground. We were responsible for all of it, the tents, the set up, the breakdown, transferring weapons would to where they were needed, and we handled that communication, coordination and equipment. I also had experience as a logistics and procurement officer at a medical education training center, handling books, pens, everything to do with the curriculum, even food services.
I started my retirement in July 2013. When I was told about an opportunity at S3, I didn't need to go back to work. I was sitting around at home relaxing, not planning on working, but when I got the call from S3, I thought, "I'll try it out."
The way I think about it, I already knew customer service – I've been doing customer service for 20-plus years, so that's nothing new to me. Before I was providing service to my commander, and now it's just a different client. Before this, I didn't think I knew anything about staffing industry, but now I feel like I just changed uniforms.
I'm fortunate that I'm able to do something similar to what I was doing in the military. I'm used to providing a service, and I like communicating, I like talking to people, to have those interactions. Making that work, that's the bottom line.
I have years of experience working with different people from different backgrounds, different capabilities, and I had to learn to understand their individual needs. The military gave me the tools to communicate well with others, to understand a person's needs and to have the persistence to deliver. We're used to being given a mission, a goal, and we have to come through. There is no "I didn't do this, I didn't do that." We execute, and we deliver it.